I told the internet I'd buy books and stuff for people, and you won't believe what happened next!
45 people got books and stuff.
FIN.
Backstory
I wrote this on both mastodon and twitter:
Let's try some "we'll probably make it through 2017" gifts. Do you need a book, a course, an app, a workshop, github, hosting, or something else that would help you? Something in $50-$100 range; ping me and I'll try to do it!
Why? Dunno, sounded like that would be a nice thing to do. And then I got two requests, which I fulfilled, and then… nothing. However, I repeated the same thing the next day, during a more US-friendly hour, and then the requests started flowing in.
Expectations
This being the internet, I expected totally random and weird things. A million requests, a bunch of trolls, a bunch of nonsense, etc.
I'm happy to report that the internet managed to pleasantly surprise me in how well it behaved in this particular occasion!
Requests
In the end I gave gifts to 45 strangers on the internet before calling it a day, and here's what they turned out to be.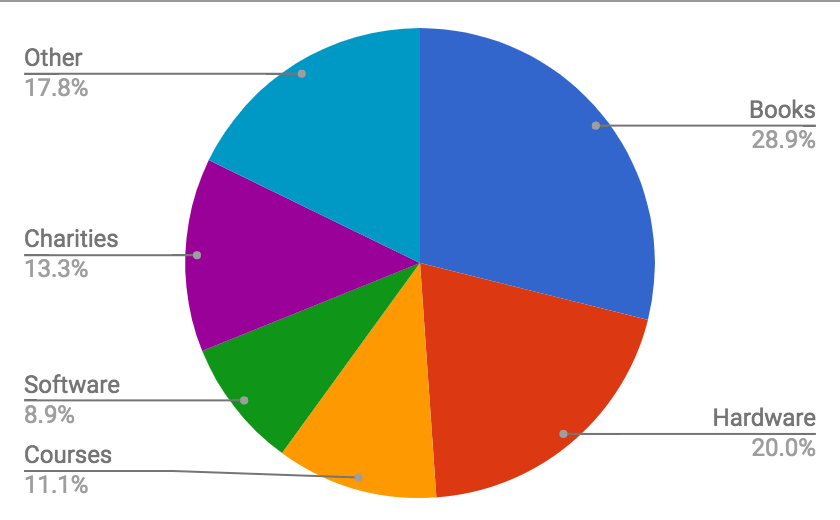 Unsurprisingly enough, majority were something about computers.
13 books: 11 on programming, 2 on art/design.
5 courses or tutorials: 3 on programming, 2 on art.
9 items of physical hardware: a couple of Raspberry Pi 3s, leapmotion, 360 camera, daydream VR viewer etc.
4 software licenses: Git Tower (twice), Gamemaker Studio 2, ArtStation Pro.
Of course, the most interesting requests are those that are not computer related :)
Was really surprised by amount of people saying "I don't need anything myself, but if you could donate to charity/nonprofit X that would be great". 13% of all requests being of that kind is pretty sweet! For some of the requests I decided to go for a larger than $50-$100 contribution. Here's what people asked to donate to:
Patreon for a graphics/comics artist
And of course, "everything else" is where it was fairly random. I bought tree saplings, socks, room heater, covered an electricity bill, vet expenses and so on. Very interesting!
Tips and Findings
Buying stuff for strangers on the internet is easiest via Amazon wishlists. I pretty much got this ready-to-paste for inquiries: "Can you create a wishlist on Amazon, add the item to it, setup a shipping address and give me the link?" One big advantage – it does not disclose actual address, phone or other personal details to me; and overall it's way easier than filling in whole shipping forms.
Keep on mind though that for each and every new shipping address, Amazon will ask you to re-enter your credit card details. This makes sense for security purposes, but in this particular scenario it means re-entering them each.and.every.time. Your own Amazon UI for shipping address choices will become a mess in the end as well, and will need some cleanup.
Shipping costs are very real! Both you & me probably have a "oh yeah, a book is like $50" mental image, but depending on where it needs to be shipped that can end up anywhere in $50 to $100 for the same book.
Time investment wise, I probably have spent 15-20 hours on all this, during evenings over a few days. With some people it took quite a few roundtrips of back & forth messaging until I got a concrete actionable thing (URL of a thing: actionable, "I want a book I saw last week": not so much :)). Maybe next time it would be easier, given that now I know I should just tell people "yo, gimmeh your amazon wishlist" fast-track.
It was quite a lot of fun and felt good! If you have money to spare, I can definitely recommend.