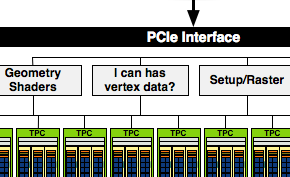 You know something became a cultural phenomenon when hardware review sites start putting up images like this…
From AnandTech's Radeon HD 4850 & 4870 review: I can has vertex data?
Edit: gee, nowadays the reviews have funny performance measures. Like, FPS per square centimeter (of GPU die size)! It does actually make sense, but it's still funny. Frames per second per square centimeter… mmm… delicious.