Everything here is work in progress!
This is a game for Lost Garden's Shade design challenge.
Playable builds
All builds are in-browser and require Unity Web Player to be installed (it will prompt for download if not installed). Windows 2000+ or Mac OS X 10.3.9+ is needed, and the game requires a graphics card that can render proper shadows (most pixel shader 2.0+ cards will do, except Intel GMA 950 on Windows).
2008 07 31 - oh my, did absolutely nothing during whole July... Here's some small stuff:
game area larger, camera follows the player
minimap
2008 07 02 - spent a little more time on it. No tuning of the gameplay yet, just small bits.
improved following of the player
mushrooms will go to homebase as soon as player touches it
reduced speed of player & mushroom growth (does not feel right yet; I think at least they should shrink much faster)
more complex level
2008 06 30 - very initial stage. Arrow keys to control the player (gray cylinder). Home base is at upper right corner. Each mushroom follows the player at ever increasing distance, so after a while they start following at totally wrong distance (hey, it's an early stage!). No daylight change yet. No "fun factor" of any kind yet either :)
Screenshots
Latest images at the top. Click thumbnails for full-size images...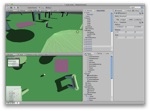 2008 07 31, minimap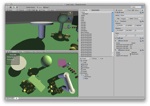 2008 07 02, better following, more complex level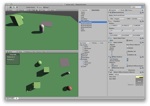 2008 06 30, home base is there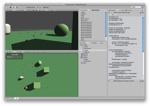 2008 06 30, picking them up, they're following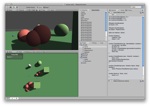 2008 06 30, they're really growing!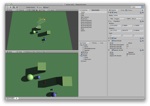 2008 06 30, mushrooms growing in the shade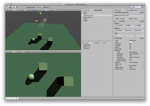 2008 06 30, just started